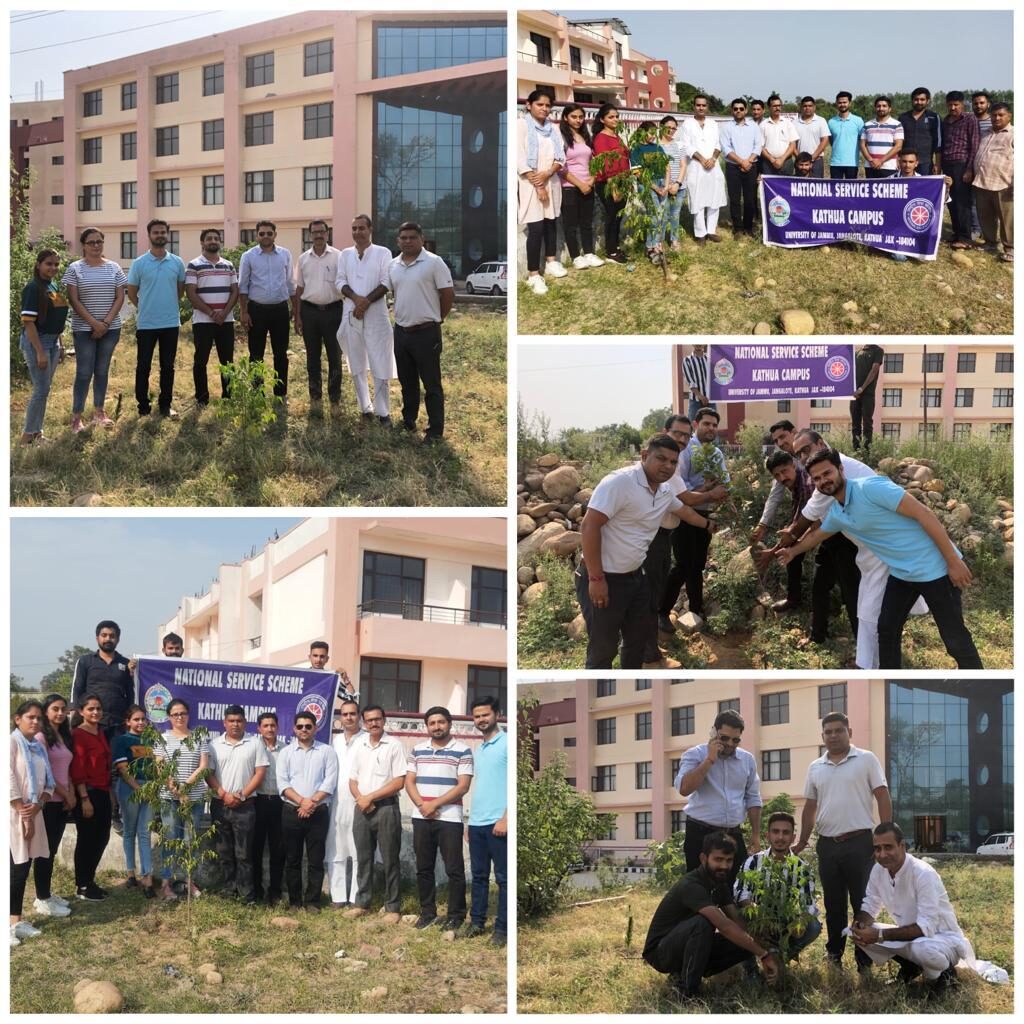 Kathua Campus, University of Jammu organized a plantation drive on the eve of 'World Environment Day' in collaboration with the 'Parvarayan Gatividhi', an organization dedicated to bio-diversity and environment conservation as part of the country-wide 'Azadi ka Amrit Mahotsav' celebrations under the theme of year 2022 #OnlyOneEarth. The drive was aimed at highlighting the critical importance of safeguarding the natural resources of the 'Mother Earth'. Mr. Kewal Bali ji, a renowned environmental activist from 'Parvarayan Gatividhi', was the key resource person on the occasion.
Dr. Meenakshi Kilam, Rector, Kathua Campus while applauding the efforts of the participants assured that more such activities shall be conducted on large scale in the times to come under the aegis of 'Green India Clean India' campaign. Professor Susheel Sharma, Coordinator, UIET also in his message said that "We are committed to make Kathua Campus ecofriendly" while highlighting the importance of such activities in present scenario of Global Warming. Further, Mr. Amit Sharma, NSS Programme Officer while stressing upon the rationale of the drive said that "Institutional forestation is one of the most important components of our ecofriendly policy to create green assets within the Campus." Mr Pankaj Khajuria, Assistant Registrar, Kathua Campus played a pivotal role in procuring the plants and mobilizing stakeholders for the drive. Speaking on the occasion, he said that being peak summer and the survival rate of the plants being a little low, a small plantation drive (20-25 saplings) was conducted to mark the importance of 'Environment Day' that shall be followed by series of major ones in the upcoming rainy season.
All the faculty members, officers, non-teaching staff and NSS volunteers of Kathua Campus and UIET including Dr Mahesh Kaul, Dr Zaheen Ansari, Ms Tiharika Nath, Ms Kamakashi, Er. Saravdhaman among others participated in the said drive thereby planting saplings of different varieties including medicinal and ornamental plants.